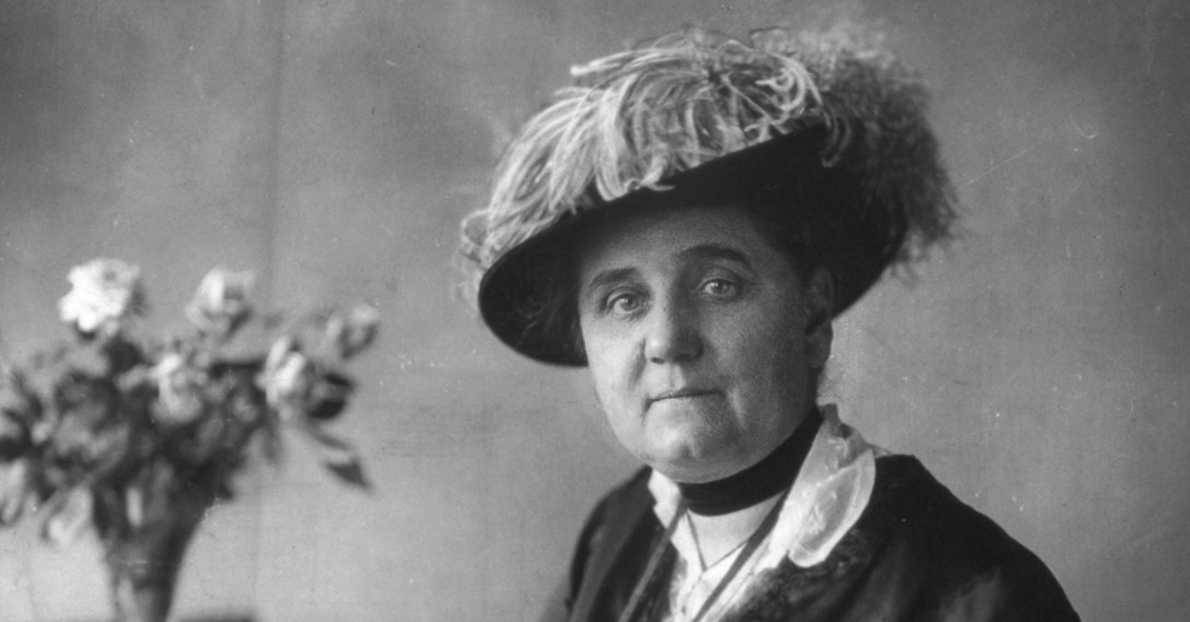 Normally when people hear the name Addams they think of the Addams Family or our second First Family of the United States. Jane Addams is neither, but she certainly made a name for herself. Have you ever heard of Jane Addams, the first woman to win the Nobel Peace Prize?
The Start
Jane was born on September 6th, 1860 in the small town of Cedarville, Illinois. Out of her nine siblings, Jane and four others were the only ones to survive to adulthood. Her father, John Huy, was one of the wealthiest men in town. Her mother, Sarah Weber Addams, died in childbirth when Jane was 2 years old. Huy owned a mill, fought in the Civil War, and considered Abraham Lincoln one of his closest friends. As a child, Jane dealt with a congenital spine defect, but it was later corrected through surgery.
Education
In 1881, Jane graduated from Rockford Female Seminary at the top of her class. She was part of a new generation of college-educated women called "New Women". Her religious zeal started to wane (sounds like a lot of us eh?) she still wanted to help the greater good and started to study medicine.
Sadly, her own health derailed her studies, but she found her true calling in London in 1888. While visiting with her friend Ellen Gates Starr at Toynbee Hall, Addams vowed to bring the same kind of home back to the States. Toynbee Hall was known for providing services to poor industrial workers. Fun fact: Ellen Starr leased the home built by Charles Hull at the corner of Halsted and Polk Streets.
In 1889, both Addams and Starr founded Hull House in Chicago's West End. The goal of the house was to bring educated women together to share knowledge from medicine and basic skills to arts and literature with the poorer folk of the neighborhood. They also envisioned these women to live in the house among the people they helped.
The women were joined by prominent women of society such as Julia Lathrop, Alice Hamilton, Grace and Edith Abbott, and Florence Kelley. The Hull House women provided vital services to thousands of people a week.
These services included kindergarten and day-care for working mothers; job training; English language teaching; acculturation classes for immigrants; a gym; an art gallery; among other things. Addams gave speeches nationally and wrote articles to provide information about Hull House and gather support across the country.
Her Work Over the Years
Addams didn't just start Hull House; she was also an active advocate in politics and legislation. In 1905, she was appointed to the Chicago's Board of Education and made chairman of the School Management Committee. In 1908, she participated in the founding of the Chicago School of Civics and Philanthropy. In 1909, she became the first woman president of the National Conference of Charities and Corrections.
As a progressive reformer, Addams lobbied for the establishment of a juvenile court system; a protective labor legislature for women; better urban sanitation and factory laws, and even led investigations on midwifery, narcotics consumption, milk supplies. Her involvement went so far, she even accepted the post of garbage inspector of the Nineteenth Ward of Chicago. Talk about a driven woman! In 1910, she was awarded the first honorary degree to a woman at Yale University.
How Did She Become the First Woman to Win the Nobel Peace Prize?
In the early 1900s, Addams kept going like a freight train booking it across the Plains. In 1906 she gave a course of lectures at the University of Wisconsin which she then published in a book the next year: Newer Ideals of Peace. She continued her talks of peace at a ceremony commemorating the building of the Peace Palace at The Hague in 1913. In the next two years, she spoke as a lecturer sponsored by the Carnegie Foundation against America joining World War I. Well, we all know that didn't work.
In January 1915, she accepted the chairmanship of the Women's Peace Party and then the presidency of the International Congress of Women convened at The Hague. After that congress convened, she served as president of the Women's International League for Peace and Freedom until 1929.
She did have her setbacks though. Since she opposed the war, she was kicked out of the Daughters of the American Revolution but that didn't stop her from becoming an assistant to Herbert Hoover in providing relief supplies of food to women and children of enemy nations.
And the worst part? She suffered a heart attack in 1926. On December 10th, 1931, the day she was to be awarded the Nobel Peace Prize in Oslo, she was admitted to a hospital in Baltimore, Maryland. In 1935, she died three days after surgery that revealed she had cancer.
Jane's funeral was held at Hull House and is buried in Chicago. Sadly, the construction of the University of Illinois' Chicago campus forced Hull House to move and the original buildings were destroyed in 1963. Today, the actual Hull House building (which luckily wasn't destroyed) serves as a monument honoring Addams.
Pretty cool huh? See girls? Don't ever let anyone tell you you can't do something, because you dang well can.
Sources
Biography.com Editors, "Jane Addams Biography." Biography.com. A&E Networks Television. Wed. 16 Sep 2020. https://www.biography.com/activist/jane-addams
Jane Addams – Biographical. NobelPrize.org. Nobel Media AB 2020. Wed. 16 Sep 2020. https://www.nobelprize.org/prizes/peace/1931/addams/biographical/
Michals, Debra. "Jane Addams." National Women's History Museum, 2017. Wed. 16 Sep 2020. https://www.womenshistory.org/education-resources/biographies/jane-addams