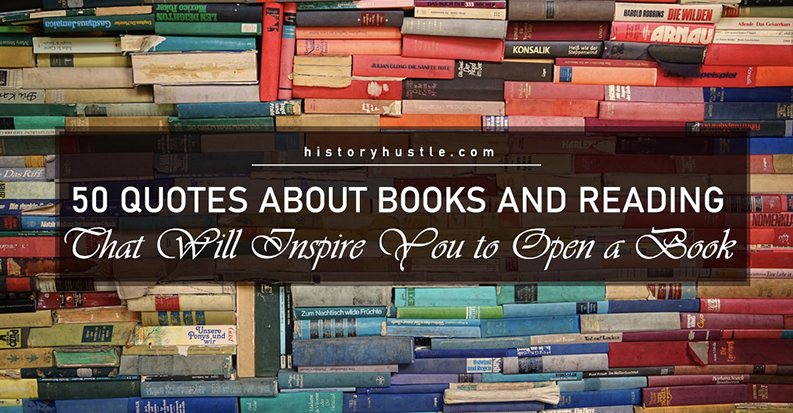 Reading is undoubtedly good for you. Unfortunately, not everyone is keen on reading. If you're still dilly-dallying about picking up a book, perhaps these quotes about books and reading from authors, philosophers, and a host of others will convince you. Of course, you bookworms will also certainly enjoy this collection of inspiring quotes.
It's quite understandable that people's interest in books may be waning these days. With so much information—often visual—available on the internet, it's really easy to get hooked on 'surfing' online than reading books. Not to mention there's also the television (and Netflix!), busy schedules, or sometimes—for the once readers, there is also that thing called a reading slump.
Whatever may be the case for you, these inspiring quotes about books and reading may just give you the jump start that you need. And worry not if you're not particularly the type of person who gushes about books nor one to be found casually seated, holding (let alone reading) a book either. Remember, J.K. Rowling once said, 'If you don't like to read, you haven't found the right book."
And to find the right one, you have got to start somewhere, right? Maybe you can give these selections of Tudor history books, Abraham Lincoln books, or WWII History books a quick browse and see if any appeal to you. You'll never know, books have a way of connecting to people, too!
50 Inspiriting Quotes About Books and Reading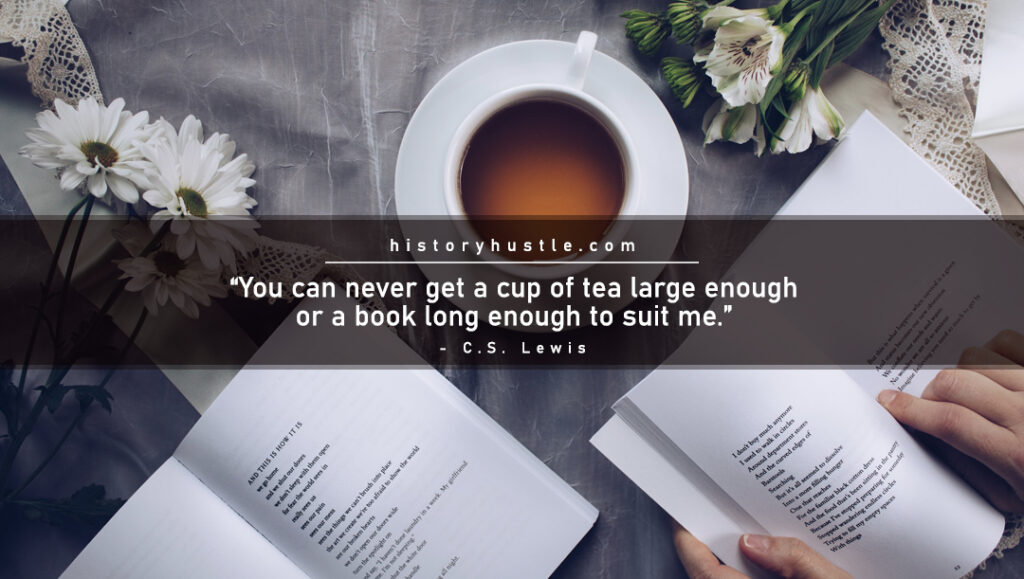 1. "You can never get a cup of tea large enough or a book long enough to suit me."
– C.S. Lewis
C.S. Lewis, a British author, wrote The Chronicles of Narnia and was friends with J.R.R. Tolkien. He was also a theologian and held positions in academia at Oxford and Cambridge.
2. "Classic' – a book which people praise and don't read."
– Mark Twain
Mark Twain is an author and humorist. He has been called "the father of American literature," and is perhaps most famous for The Adventures of Tom Sawyer, and Adventures of Huckleberry Finn.
3. "Books are a uniquely portable magic."
– Stephen King
Stephen King is an American novelist and short-story writer known for his suspenseful horror works. Many of his novels have been made into movies, most notably, The Shining, a classic 1977 horror novel.
4. "I have a passion for teaching kids to become readers, to become comfortable with a book, not daunted. Books shouldn't be daunting, they should be funny, exciting and wonderful; and learning to be a reader gives a terrific advantage."
– Roald Dahl
Roald Dahl is known as one of the greatest storytellers of children of the 20th century. This British novelist, short-story writer, and poet have sold over 250 million book copies across the world. Two of his world-famous books included Matilda and Charlie and the Chocolate Factory.
5. "Show me a family of readers, and I will show you the people who move the world."
– Napoléon Bonaparte
Napoléon Bonaparte is considered one of the greatest military generals in history. Apparently, he was also a writer, his novel Clisson et Eugénie, was penned in 1795 while he was still in the ranks of the French army.
6. "You don't have to burn books to destroy a culture. Just get people to stop reading them."
– Ray Bradbury
Ray Bradbury is not only one of the most celebrated authors of the 21st century, he was also a Pulitzer awardee. He was not exactly thrilled being referred to as a science fiction author because according to him, his work was based on the fantastical and unreal. One of his best novels included Fahrenheit 451.
7. "Let's be reasonable and add an eighth day to the week that is devoted exclusively to reading."
– Lena Dunham
Lena Dunham is an award-winning writer, director, producer, and actor. She's the first woman to ever win the Directors Guild of America Awards for Outstanding Directing for her HBO series Girls.
8. "The reading of all good books is like conversation with the finest (people) of the past centuries."
– Descartes
Descartes, the first modern philosopher, is best known for Meditations on First Philosophy (Meditationes de Prima Philosophia) published in 1641. This work of his paved the way for the philosophical groundwork for the possibility of the sciences.
9. "I read a book one day and my whole life was changed."
– Orhan Pamuk
Orhan Pamuk is a Turkish novelist and a Nobel Prize awardee in Literature (2006). He made an international breakthrough with his third novel, Beyaz Kale. His works are known for their play with identities and doubles.
10. "Once you have read a book you care about, some part of it is always with you."
– Louis L'Amour
Louis L'Amour was an American novelist and short-story writer known for his Western novels as well as historical fiction, science fiction, and non-fiction pieces. Over his lifetime, he has written 100 novels and over 250 short stories.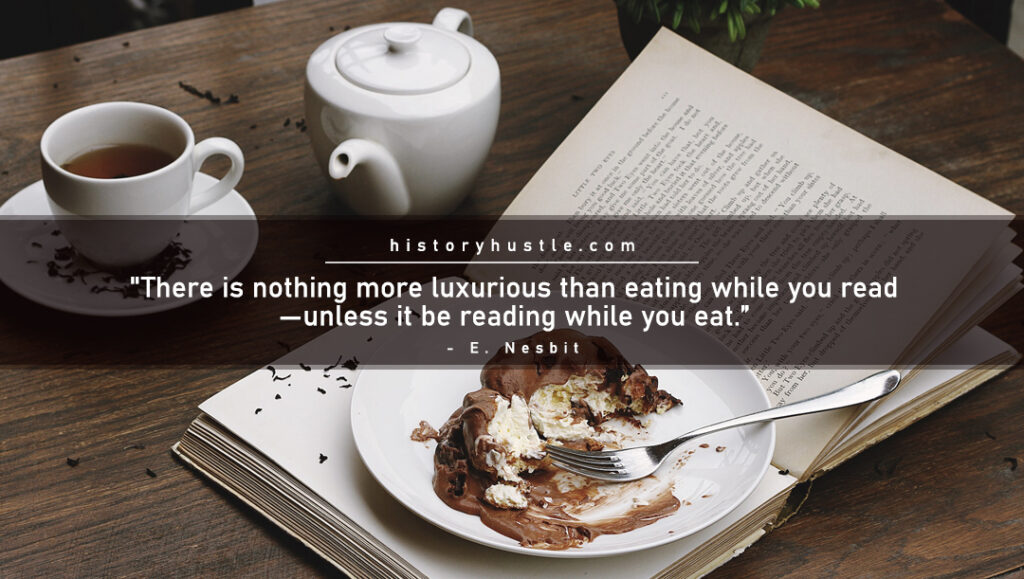 11. "There is nothing more luxurious than eating while you read—unless it be reading while you eat."
– E. Nesbit
Nesbit, or Edith Nesbit, was an English writer and poet. She is known as the creator of modern children's fantasy. Among her best-known books are The Story of the Treasure Seekers, The Wouldbegoods, and New Treasure Seekers – all three are part of the Bastable series.
12. "It's not that I don't like people. It's just that when I'm in the company of others – even my nearest and dearest – there always comes a moment when I'd rather be reading a book."
– Maureen Corrigan
Maureen Corrigan is a book writer who is also a book critic for NPR's Fresh Air and is The Nicky and Jamie Grant Distinguished Professor of the Practice in Literary Criticism at Georgetown University.
13. "One glance at a book and you hear the voice of another person, perhaps someone dead for 1,000 years. To read is to voyage through time."
– Carl Sagan
Carl Sagan was a scientist who not only advocated for nuclear disarmament but also pioneered the study of extraterrestrial intelligence. He co-wrote and narrated Cosmos: A Personal Voyage – an award-winning 13-part television series.
14. "A book is a gift you can open again and again."
– Garrison Keillor
Garrison Keillor created the Minnesota Public Radio show 'A Prairie Home Companion.' He's an American author, humorist, voice actor, and singer. He has over 100 written and recorded works.
15. "Never trust anyone who has not brought a book with them."
– Lemony Snicket, Horseradish
Lemony Snicket or Daniel Handler in real life, is the man behind the 13-book collection, A Series of Unfortunate Events. Horseradish is a book that introduces Snicket's unhappy observations to those who are not yet familiar with the Baudelaires' misadventures.
16. "Sometimes, you read a book and it fills you with this weird evangelical zeal, and you become convinced that the shattered world will never be put back together unless and until all living humans read the book."
– John Green, The Fault in Our Stars
John Green is one of the New York Times bestselling authors whose first novel, Looking for Alaska won him a Michael L. Printz Award in 2006. He also wrote An Abundance of Katherines, Paper Towns, The Fault in Our Stars, and Turtles All the Way Down.
17. "The best books… are those that tell you what you know already."
– George Orwell
George Orwell's, born Eric Arthur Blair, best-known novels include Animal Farm and Nineteen Eighty-Four. He was an English novelist, essayist, and critic. He was known for his strong opinions regarding the major political movements of his time.
18. "I cannot remember the books I've read any more than the meals I have eaten; even so, they have made me."
– Ralph Waldo Emerson
Ralph Waldo Emerson was the leading figure of the Transcendentalist movement of the mid-19th century. This American essayist, poet, and philosopher were known as the champion of individualism, liberty, and freedom of thought. His best-known essays include Self-Reliance, History, The Over-Soul, and Fate.
19. "No entertainment is so cheap as reading, nor any pleasure so lasting."
– Mary Wortley Montagu
Lady Mary Wortley Montagu was an English writer, poet, essayist, and feminist known as the most colorful Englishwoman of her time. Her published Turkish embassy letters in 1763 gains her a literary reputation and were acclaimed all throughout Europe.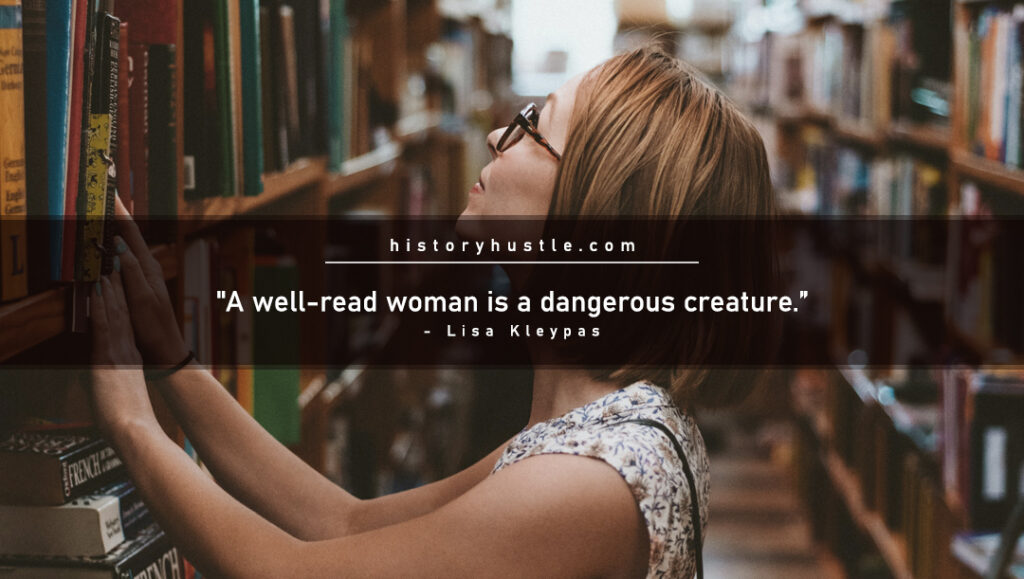 20. "A well-read woman is a dangerous creature."
– Lisa Kleypas
Lisa Kleypas is a best-selling American author of historical and contemporary romance novels published in different languages. Many of her works are arranged into series such as the Berkley-Falkner series, Only Vallerand series, and Wallflower series.
21. "A book is made better by good readers and clearer by good opponents."
– Friedrich Nietzsche
Friedrich Nietzsche was a German philosopher and cultural critic. His works about individuality and morality in contemporary civilization influenced the major thinkers and writers of the 20th century. He was also often associated with a group of late modern thinkers that includes Marx and Freud.
22. "When I look back, I am so impressed again with the life-giving power of literature."
– Maya Angelou
Maya Angelou was an award-winning author, poet, and essayist. One of her best-known works is her 1969 memoir 'I Know Why the Caged Bird Sings.' She was also a screenwriter, actor, dancer, and civil rights activist.
23. "There is more treasure in books than in all the pirate's loot on Treasure Island."
– Walt Disney
Walt Disney is the co-founder of the Walt Disney Company. He was a film producer, media magnate, and creator of famous cartoon characters and Disney Theme Parks. During his lifetime, he won 22 Academy Awards and currently holds the record for the most wins and most nominations.
24. "A reader lives a thousand lives before he dies. The man who never reads lives only one."
– George R.R. Martin
George R.R. Martin is a novelist, screenwriter, and short-story writer best known for his fantasy series 'A Song of Fire and Ice' which was adapted to the critically acclaimed HBO series, Game of Thrones.
25. "Despite the enormous quantity of books, how few people read! And if one reads profitably, one would realize how much stupid stuff the vulgar herd is content to swallow every day."
– Voltaire
Voltaire was a French philosopher, writer, and essayist. He is best known for his witty, satiric, and defensive works regarding civil liberties such as the tragic play 'Zaire,' and the satirical novella 'Candine.' Voltaire is widely considered one of France's greatest Enlightenment writers.
26. "The more that you read, the more things you will know. The more that you learn, the more places you'll go."
– Dr. Seuss, I Can Read with My Eyes Shut!
Dr. Seuss, born Theodor Seuss Geisel, was an American writer and illustrator of children's books. His works are known for their unusual characters, nonsense words, and playful rhymes. Among his most famous books are The Cat in the Hat and Green Eggs and Ham.
27. "Reading is essential for those who seek to rise above the ordinary."
– Jim Rohn
Jim Rohn was an influential author and motivational speaker. He was an entrepreneur whose rags-to-riches story played a big role in influencing others in the personal development industry. He was able to author countless books, and audio and video programs during his lifetime.
28. "If you don't like to read, you haven't found the right book."
– J. K. RowlingJ. K. Rowling is the woman behind the critically acclaimed and best-selling book series of all time, Harry Potter. This British author, full name Joanne Kathleen Rowling, wrote all 7 Harry Potter books which were published between 1997 to 2007.
29. "It is what you read when you don't have to that determines what you will be when you can't help it."
– Oscar Wilde
Oscar Wilde was an Irish author, poet, and playwright writer whose literary popularity and reputation rests on his only novel called The Picture of Dorian Gray, and his comic masterpieces Lady Windermere's Fan and The Importance of Being Earnest.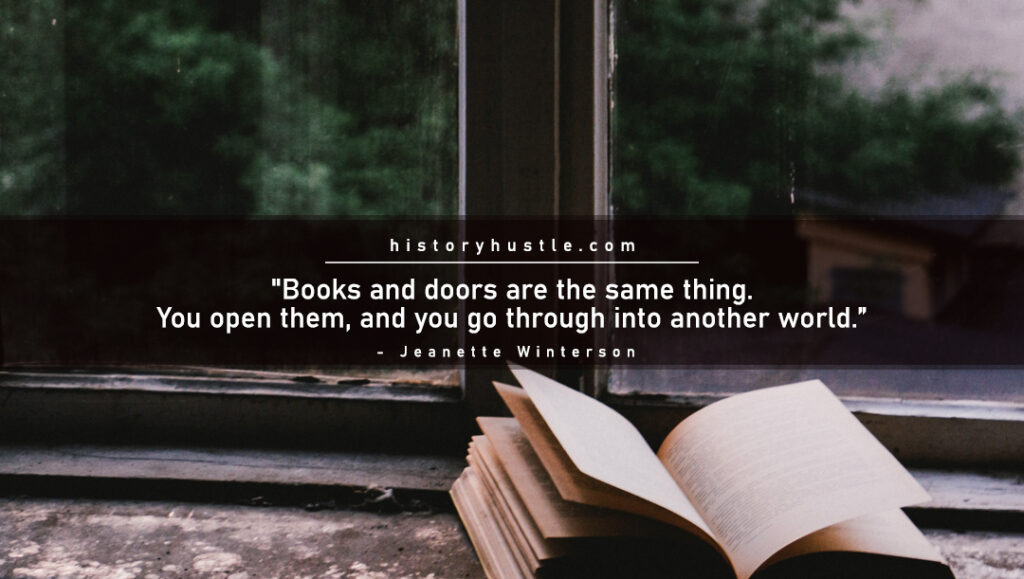 30. "Books and doors are the same thing. You open them, and you go through into another world."
– Jeanette Winterson
Jeanette Winterson is a British writer who is known for her quirky and unconventional novels. Her award-winning first novel, Oranges Are Not the Only Fruit, was later adapted for BBC television. She's considered one of the most original voices during the 1980s in British fiction.
31. "If I read a book [and] it makes my whole body so cold no fire can ever warm me, I know that is poetry. If I feel physically as if the top of my head were taken off, I know that is poetry. These are the only way I know it. Is there any other way.
– Emily Dickinson
Emily Dickinson is one of America's greatest poets. The innovative use of form and syntax is prevalent in her literary works. She often covers themes that are vastly personal to her including family, identity, isolation, love, and death.
32. "A capacity, and taste, for reading gives access to whatever has already been discovered by others."
– Abraham Lincoln
Abraham Lincoln, the 16th President of the United States. Best known for successfully preserving the Union during the Civil War and ultimately abolishing slavery.
33. "If you want your children to be intelligent, read them fairy tales. If you want them to be more intelligent, read them more fairy tales."
– Albert Einstein
Albert Einstein, one of the greatest and most influential physicists of all time, is known for his theory of relativity. He was also a Nobel Prize in Physics awardee for his discovery of the photoelectric effect.
34. "I think books are like people, in the sense that they'll turn up in your life when you most need them."
– Emma Thompson
Emma Thompson is an Emmy, BAFTA, Golden Globe, and Academy Award-winning English actor and screenwriter. She is the only person to have won Oscars for both acting and writing. Some of her notable films include Howards End, Sense and Sensibility, Saving Mr. Banks, and Nanny McPhee.
35. "The answers you get from literature depend on the questions you pose."
– Margaret Atwood
Margaret Atwood is an award-winning poet, novelist, and essayist. Some of her best works include The Handmaid's Tale, Cat's Eye, and Oryx and Crake. Not only are her works translated into multiple languages but a number of them have been adapted for film and television as well.
36. "Nothing is better than reading and gaining more and more knowledge."
– Stephen Hawking
Stephen Hawking was an English theoretical physicist, professor, and author. He performed groundbreaking work in Physics and cosmology. He wrote books polarising scientific theories and was also able to popularize and explain rather difficult scientific ideas to a wider audience.
37. "Books are the mirrors of the soul."
– Virginia Woolf
Virginia Woolf was an English author who wrote modernist classics like Mrs. Dalloway and To the Lighthouse. She also wrote essays on artistic theory. literary history, and women's writing like the Three Guineas and A Room of One's Own.
38. "Books are the quietest and most constant of friends; they are the most accessible and wisest of counselors, and the most patient of teachers."
– Charles W. Eliot
Charles W. Eliot was an American academic who holds the record for the longest term to serve as President of Harvard University. He was instrumental in transforming Harvard into America's most prominent research university.
39. "She read books as one would breathe air, to fill up and live."
– Annie Dillard
Annie Dillard is an American author known for writing meditative essays on the natural world. Her Pulitzer Prize-winning book 'Pilgrim at Tinker Creek' conveys scientific observations by the narrator on the flora and fauna as well as contemplations about faith, awareness, and the inherent cruelty of the natural world.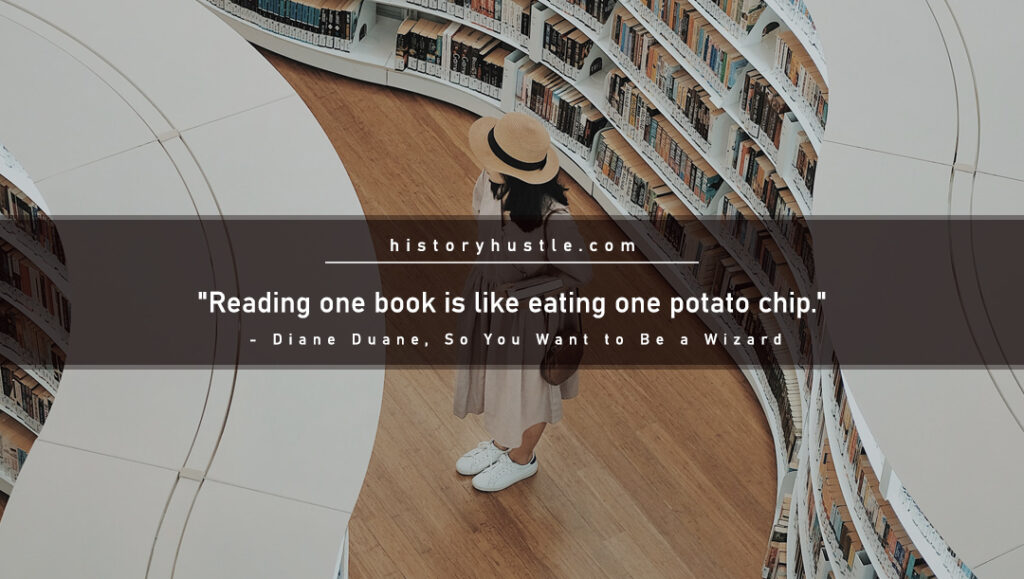 40. "Reading one book is like eating one potato chip."
– Diane Duane, So You Want to Be a Wizard
Diane Duane is an American science fiction and fantasy author whose best-known works include the Young Wizards fantasy series and Middle Kingdoms series. She also wrote a number of Star Trek novels as well as numerous scripts for live-action and animated TV series.
41. "Once you learn to read, you will be forever free."
– Frederick Douglass
Frederick Douglass was an activist, public speaker, and author. He led the abolitionist movement and was the early champion of women's rights. He wrote a memoir in 1845 'Narrative of the Life of Frederick Douglass' which is considered to be one of the most influential literary pieces written by a former slave.
42. "There is no friend as loyal as a book."
– Ernest Hemingway
Ernest Hemingway was a Nobel Prize in Literature awardee. He was recognized for his mastery of the art of narrative and for his influence on contemporary style. Hemingway is also regarded as one of the greatest American 20th-century novelists.
43. "The whole world opened up to me when I learned to read."
– Mary McCleod Bethune
Mary McCleod Bethune was an American educator who was active in African American affairs. She was the advisor of then-US President Franklin Roosevelt on issues concerning minority groups. She was regarded as one of the earliest black female activists that laid the foundation for the modern civil rights movement.
44. "There are many little ways to enlarge your world. Love of books is the best of all."
– Jacqueline Kennedy Onassis
Jacqueline Kennedy Onassis was John F. Kennedy's, first lady. She restored the White House to its original elegance and established the White House Historical Association. She also supported a Congress law that basically encouraged donations of valuable art and furniture to the White House and made those pieces an 'alienable property' of the nation.
45. "The book to read is not the one that thinks for you, but the one which makes you think."
– Harper Lee
Harper Lee was an American writer who authored the Pulitzer Prize-winning bestseller novel 'To Kill a Mockingbird.' It sold over 40 million copies worldwide and was acclaimed for its powerful depiction of racism and prejudice, particularly in the American South.
46. "Let us pick up our books and our pens, they are the most powerful weapons."
– Malala Yousafzai
Malala Yousafzai is a Nobel Peace Prize awardee (2014), recognized for her efforts to fight for the right to education for every child. She was the youngest person to ever win that award. Malala first became well-known for her diary detailing the events that took place when the Islamic Taliban movement took control of Swat Valley, Pakistan, and burned down the girls' school.
47. "Give a kid a book, and you change the world. In a way, even the universe."
– Neil deGrasse Tyson
Neil deGrasse Tyson is one of America's best-known astrophysicists. He is known for having a knack for explaining complex concepts in a simple and clear manner. One of his bestselling books is Astrophysics for People in a Hurry.
48. "Only a generation of readers will spawn a generation of writers."
– Steven Spielberg
Steven Spielberg is an Academy Award-winning director, screenwriter, and producer. Through his films, he explored primal fears, imaginative fantasy, science fiction, and historical values. Some of his best-known works include Jaws, E.T., Jurassic Park, Hook, Schindler's List, and the Color Purple.
49. "In books I have traveled, not only to other worlds, but into my own."
– Anna Quindlen, How Reading Changed My Life
Anna Quindlen is an American columnist and novelist who won a Pulitzer Prize for Commentary in 1992 – the third woman to ever received such an award. She was known for her insightful, personal view on social and political matters.
50. "A house without books is like a room without windows."
– Horace Mann
Horace Mann is considered the Father of American Education. He was an educator and politician who advocated for public education. He paved the way for the establishment of unified school systems and varied curricula that excluded sectarian instruction.
So, there goes our list of the 50 best quotes about books and reading—did you find any that are particularly interesting? Which one did you connect to the most?
Hopefully, these inspiring quotes will indeed inspire you. Again, reading books is good for you. Not only will you gain more knowledge but you will also improve your skills—concentration, communication, analytical, and even writing. Reading can also be a stress reliever, an idea booster, and an adventure starter. Heck, it can even serve as your ticket to time travel! Just like Carl Sagan said, 'To read is to voyage through time.'
Resources:
www.biography.com
plato.stanford.edu
www.nobelprize.org
en.wikipedia.org
www.britannica.com
www.goodreads.com
www.biographyonline.net